Korean Style BBQ Turkey Jerky
When it comes to adding thrill to your grill nothing stands out more than our Korean BBQ flavored Turkey jerky. We pride ourselves on continuing the tradition of a true Korean BBQ marinade seasoned in a savory-sweet marinade of sesame oil and sugar. We are definitely expecting award winning Korean BBQ chef masters from around the world to arm themselves with their butcher knife's and resort to their ancestor's art of war to get their hands on our recipe. We have barricaded ourselves behind an arsenal of weapons, prepared to repeat the battle of Heartbreak Ridge to ensure the protection of our recipes.
This is a very easy to chew, moist, marinated jerky. If you are looking for a more conventional jerky, try our Peppered beef jerky.
←
Premium Craft Jerky
Customer Reviews
Write a Review
Ask a Question
Filter Reviews:
jerky
flavor
turkey jerky
Korean
Wicked Cutz
tasting
company
texture
mouth
favorites
ahhh-dicted
OH Emmm Geee. I was truly hesitant about turkey and now i am truly addicted to it! I snacked my way through the bag and wanted MORE! Already have another order in and can't wait for this goodness to reach my tastebuds! My Husband loves all the other flavors but this one he's gonna have to fight me for!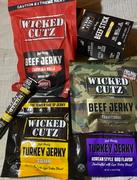 Unexpectedly moist
I enjoyed it very much!! Putting it on my next wish list
amazing experience
it was better than I imagined, just wish it was cheaper
Another home run
Great! I love all your jerky and now your seasonings!!! Great great great!!
Excellent
The turkey jerky is good, full of flavor and tender.
local_shipping
Free domestic shipping over $35
monetization_on
Money back guarantee
security
Safe & secure shopping